Filter by Category
Our Classes
Yoga 2
with Nancy Kelley

Oct 9, 2019 at 5:30 pm

, runs for 4 weeks
This class is a continuation of Yoga 1 or for those who want to refresh their yoga. The class will continue to work on foundational yoga postures, breathing, stretching techniques, and help you feel more comfortable in your yoga practice. We'll also lean new poses and discuss ways to incorporate yoga practice into everyday life activities. Expect to be challenged both mentally and physically! Dress in loose clothes and bring a yoga mat.
Zumba®
with Stephanie Dustin

Sep 18, 2019 at 6 pm

, runs for 4 weeks
Zumba Gold is the perfect option for those new to Zumba®, older active adults, and for those who are de-conditioned and want to become more active. Zumba® Gold is an easy-to-follow program using simple moves allowing participants to move to the beat at their own pace. This is exercise in disguise! It is a beginner class and suitable for all ages and abilities. Bring water and shoes that do not have a tread, but allow you to move easily across floor surfaces. 
Will run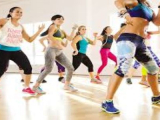 Zumba® Gold toning
with Stephanie Dustin

Oct 16, 2019 at 6 pm

, runs for 4 weeks
Take the Zumba® fun to the next level! This class offers the best of both worlds - the fun of Zumba® with the benefits of safe and effective strength training. It's an easy to follow, health-boosting dance fitness program for baby boomers, active seniors, as well as for those new to Zumba®. Through dynamic lightweight resistance training and dance moves, this class helps participants build muscle strength, increase bone density and improve mobility, posture and coordination. Weights are provided by the instructor or are available for purchase. No class on 10/30.