Filter by Category
Personal Finance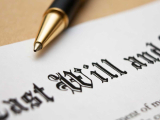 Simple Wills
with Susan Farnsworth

Apr 4, 2019 at 6 pm

, runs for 1 week
Review the basics of making a simple will. A will can protect your assets and help minimize the chances of a contest over your estate. If you die without one, your estate may not be distributed as you would choose. Use a will to: provide for your family, specify to whom you would like to receive your property, state your funeral and burial instructions, create a trust for minor children, disinherit a person(s), or name a guardian for minor children. Join Susan Farnsworth for this one-evening class as she explains the process of creating a will and discusses how to determine whether a simple will is sufficient or if a more complex document is in order to protect your assets.
Will run
Understanding Medicare
with Robert Harvey

May 1, 2019 at 6:30 pm

, runs for 1 week
Have you ever felt like Medicare regulations are a black box? There's an alphabet soup of plans, a book of fine print and a calendar full of dates to remember. The whole thing seems like a mystery with too few clues to solve. Robert Harvey, a Licensed Insurance Agent with HealthMarkets, can answer many of the questions you may have about Medicare, from the beginning of the process on. He will discuss: when you are eligible, what is the timeline for enrollment without penalties, what original Medicare covers and what it doesn't, what additional plans work in conjunction with original Medicare, and your financial assistance options.
Will run