Filter by Subcategory
High School Completion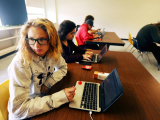 Online Registration Unavailable
HiSET Academy

Sep 8, 2020
HiSET Academy is an online learning system that can be accessed both at home and at school. The system provides interactive instruction in all five HiSET subjects. Students who require preparation in reading, writing, science, and social studies are expected to participate in this program. Students may enroll at any time.
Please call 207-582-3774 for further information.
Online Registration Unavailable
HiSET PREP

Sep 8, 2020
Students will complete preparation activities in Writing, Reading, Science and Social Studies skills. Much of each class will focus on reading strategies, writing mechanics and essay development. The class has a relaxed atmosphere in which students work at their own pace. Please call 207-582-3774 for more information.
$$ DONATE $$

Oct 1, 2020

, runs for 14 weeks
We sincerely appreciate your interest in supporting MSAD #11 (Gardiner Area) Adult & Community Education's literacy programs through your generous donation. Please click on the register button, which will then bring you to a page where you choose the amount to donate from $5 to $500.  (For any donation above $500, please call our office at 207-582-3774.)  Thank you!