Filter by Category
Computers and Technology
Registration Unavailable
Introduction to Powerpoint
Price not
available
with Adam Soto

Nov 13, 2018 at 4:30 pm

, runs for 1 week
Powerpoint is a presentation power tool most often used to enhance and personalize any kind of presentation. This workshop will introduce you to the basics of Powerpoint to create appealing and effective work, school or personal presentations.
Master the iPad
with Becky Ranks

Dec 10, 2018 at 6 pm

, runs for 1 week
Bring your Apple iPad or Apple iPad Mini to class and learn how to leverage the powerful technology inside. Set up your Apple iPad to work with wireless networks and cellular service, download and organize apps, watch video, organize photos, listen to music, explore maps and games and adjust the iPad's settings to best suit your style. All versions of the Apple iPad will be covered.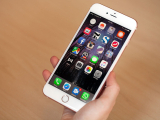 Master the iPhone
with Becky Ranks

Dec 5, 2018 at 6 pm

, runs for 1 week
There are over 90 million Apple iPhones in use in the U.S. Packed with power, this device has the capability to enhance our lives and change the way we do everyday tasks. We'll talk about the obvious and not-so-obvious features that the Apple iPhone has to offer. Topics will include iCloud, privacy, photos, App Store, iTunes, Apple Pay, Health Apps, Siri, Spotlight Search, iBook, and much more. Whether you have the newest version or an older one, you're sure to pick up valuable information!
Will run