Filter by Category
College Transitions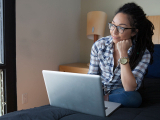 Online Registration Unavailable
Accuplacer Testing

Sep 8, 2020
The Next Gen Accuplacer is the college placement test required by local colleges to determine college readiness. Take it for FREE through our program. Convenient testing times and dates are available. Call 582-3774 to find out if you are ready for college.
Online Registration Unavailable
College and Career Advising

Sep 8, 2020
College Transition students meet regularly with their advisor to prepare for college entry. A variety of activities and video conferencing are planned throughout the semester. Please call 207-582-3774 for more information.